Due to the latest government guidelines, we've had to make a few changes to some of our restaurants across the UK:
-- Scotland: We've had to close some of our restaurants for Eat-in in Scotland from 9th October - 25th October.
-- Northern Ireland: We've had to close all our restaurants for Eat-in in Northern Ireland from 16th October – 13th November.
-- Wales: We've had to close all our restaurants for Eat-in in Wales from 23rd October – 9th November.
But don't worry you can still get your Nando's fix with Collect and Delivery.
For full details of the restrictions please see our COVID-19 updates page.
For all other restaurants in the UK, you can check your local Nando's by having a look at the link below. (Sorry, we're not taking bookings!).
What restaurants are open for Eat-in?
To make sure it's as safe as possible for you to enjoy PERi-PERi with us, we've made some changes to our service style in line with government and social distancing guidelines.
Here's what's new…
Queuing
We've put a new system in place. Instead of lining up outside the restaurant, all you need to do is scan the QR code that you'll see when you arrive, and we'll text you when your table is ready.
Cashless 
Order and pay for your PERi-PERi fix from your table. Simply scan the QR code using the camera on your phone and get ordering. You can still earn Chilli Points and redeem Rewards on your Nando's Card when you pay.
Keeping distance
We've socially distanced our tables and will be operating at a reduced capacity. With social distancing taking place in our kitchens, we've got a limited menu right now. Most of the Nando's meals you know and love are still there though!
We'll come to you
We'll bring everything to your table, including sauces, cutlery and napkins. Just say the word.
Keep it clean
There will be sanitiser stations around the restaurant for you to use.
Face Masks
With new government advice, all members of our team will be wearing face coverings which we have provided. When you visit, please make sure you wear a face mask too. If you're Eating-in with us, you can remove it at the table.
Displaying COVID-19 symptoms?
Please stay at home. We're doing all we can to keep our customers and teams safe, so please help us to do that.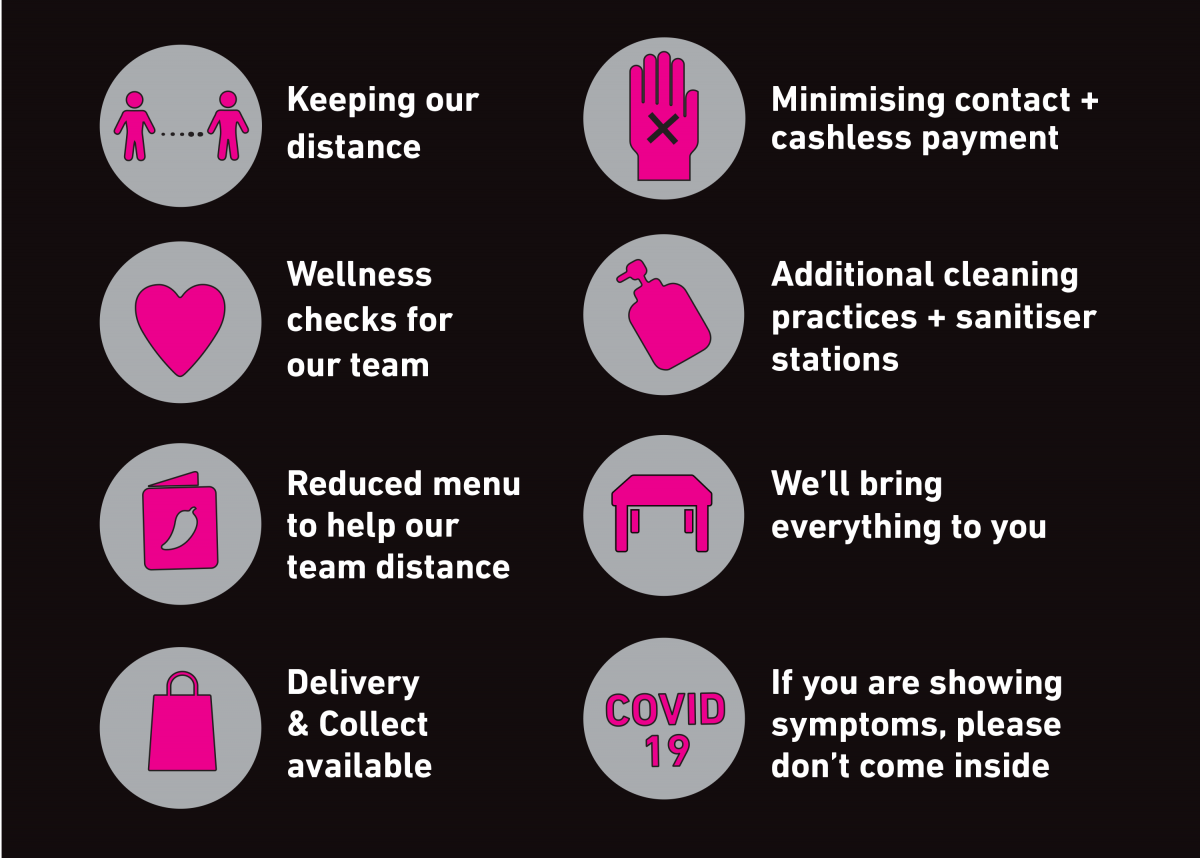 If there's no Nando's near you offering Eat-in just yet, you can always get your fix by ordering Delivery or Click & Collect. Check your postcode to see if we can head over with the goods!
Visit our COVID-19 updates page on our Nando's Ireland site for the latest updates.