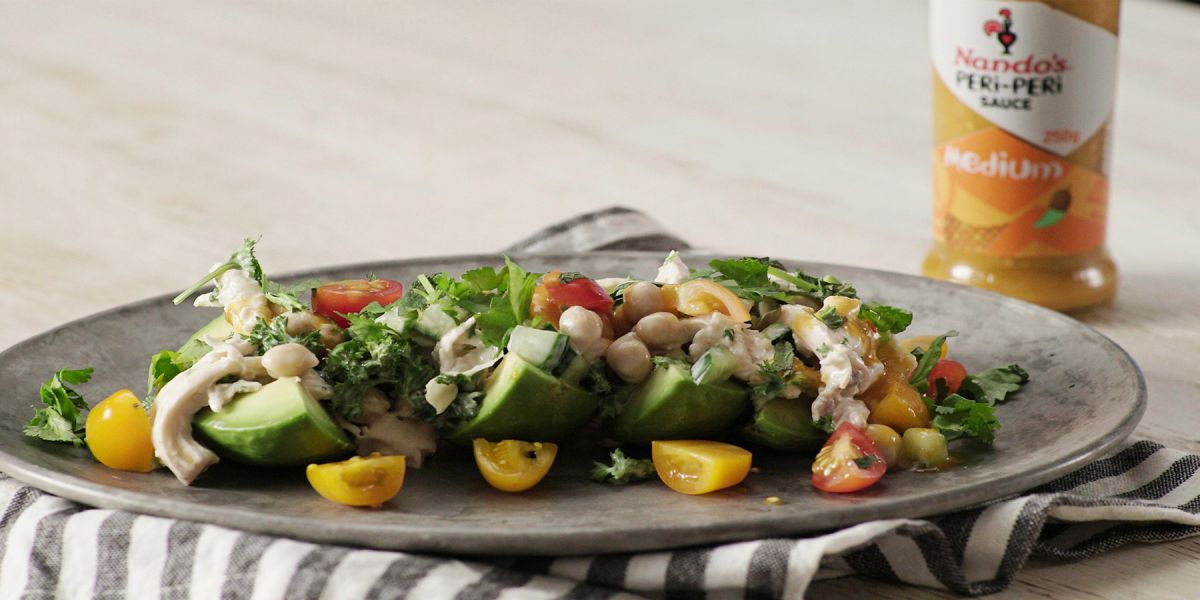 PERi-PERi

Chicken and Avo Salad

Prep: 10mins

Cook: 10mins
Looking for a speedy healthy salad to get you started? Avo-go at this!
Download recipe
Opens in a new window
Ingredients
60ml PERi-PERi sauce (choose your flavour)
1 tin of drained cooked chickpeas
¼ cucumber, deseeded and diced
A small handful of coriander, chopped
A small handful of mint, chopped
½ red onion, finely sliced
8 cherry tomatoes, quartered
120g shredded leftover cooked chicken
Small bunch of parsley, chopped
Method
Step 1
Mix chicken, cucumber, chickpeas, parsley, yogurt and PERi-PERi sauce in a bowl.
Step 2
Cut avocado in half, remove the stone (they don't taste so nice), score and scoop out of skin. Plate.
Step 3
Place tomatoes on avocado and top with chicken mix. Enjoy – it feels good to be good!
PERi-PERi FLAVOURS
A mere hint of heat but a tidal wave of flavour.

Where to find us

Hits the spot without scalding your tonsils.

Where to find us

Hits the spot without scalding your tonsils.

Where to find us

Highly combustible - proceed with caution.

Where to find us

Like tackling a ferociously fiery dragon.

Where to find us

Hits the spot without scalding your tonsils

Where to find us