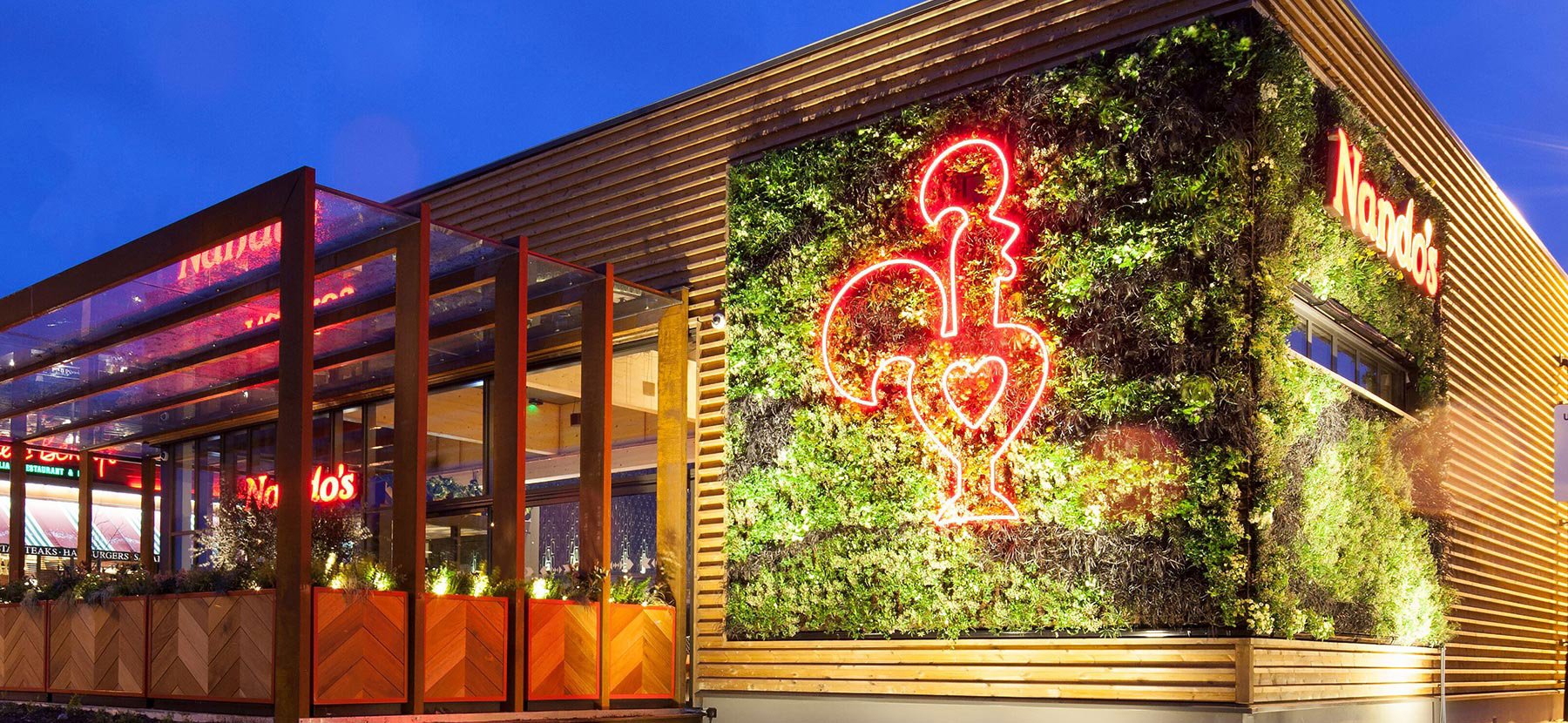 Being Sustainable
Sustainability is nothing new to Nando's. For almost a decade we have had a dedicated sustainability team beavering away behind the scenes to ensure that we are treading lightly on our planet and supporting communities close to our restaurants and in Southern Africa.
Some of the achievements we are most proud of over the years include:
--In July 2020, signed up to both the Science Based Targets initiative and the Better Chicken Commitment; a first in combining improvements in sustainability with animal welfare.
--Committed to achieving absolute zero direct emissions and reducing the carbon footprint of a Nando's meal by a further 50% by 2030 while pledging significant improvements to chicken welfare by 2026.
--Reduced the carbon footprint of an average Nando's meal by 40% since 2015.
--Offsetting all our emissions across restaurants and supply chain, so every restaurant, meal, delivery and sauce bottle will be carbon neutral by November 2021.
--Moved to 100% renewable electricity and gas across Nando's business in England, Scotland and Wales, with Ireland being next.
--Starting No Chuckin' our Chicken, a food donation programme we kicked off back in 2013 which supports over 450 local charities across the UK. To date we have donated over 2.8 million meals and over 60,000 meals to NHS and front line workers during the pandemic.
--Supporting the eradication of malaria from Mozambique, through our partnership with Goodbye Malaria. Over the past four years we have protected the lives of over 1 million people 1,166,111. To support this important work we have raised £1,874,201 since 2017.
--We've made sure all our restaurants have recycling and food waste streams so we can meet our initial 70% recycling target, and behind the scenes we're aligned to the UK Plastics Pact and are working hard with our suppliers to improve our packaging.
--Proud to have been awarded the Sustainable Restaurant Association's 3-star rating which is their top restaurant rating. Over three consecutive years we have won various awards at the SRA Awards.
--In 2015, Scotland and Wales introduced mandatory 5p and 10p bag charges for single-use paper bags. Which meant we had to, too. We've donated these charges to our No Chuckin' Our Chicken initiative, where we partner with local charities. Last year, £108,000 was donated to 36 local charities, with £84,000 going to Scottish charities and £24,000 to Welsh charities. Each one was given £3,000 to use however they like - some are planning to upgrade their kitchens and others are using it to upskill their volunteers.
Our approach is all about joining the dots, not ticking the boxes. So, we're tackling climate change and chicken welfare, food waste and food redistribution altogether. We apply science and rigour to what we do and, whilst we have a team of in-house sustainability experts, we also collaborate with external partners including the Soil Association who advise on sustainable farming, South Pole who support our offsetting projects and Compassion in World Farm for advice on improving Chicken Welfare.
Whilst we have cared about sustainability for a long time, we know that we have not done enough. We are not perfect yet, but we're working hard to get better all the time.