For the people
At Nando's we're all about the people. It's the people that make the chicken and it's the people that bring the passion to our restaurants. From the vibrant communities we've built restaurants and relationships in to the people we work with in Southern Africa, we've set our sights on creating lasting happiness and a positive social impact wherever we go.
Close to home In our Homeland In our day jobs
Our restaurants are a part of the rich tapestry of each local community and we want to make sure we're giving back, so that every neighbourhood can prosper.
A beacon in the community
Every Nando's restaurant builds their own partnerships with local charities and has the freedom to choose which ones they'd like to support, based on their local knowledge of what's needed in that area. We know how important it is to make personal connections and get things done quickly, so we leave the red tape out and let them get on with it. To do this, we've created an easy-to-access community fund for each region, which means we can reach more people in a more personal way and make a real difference to each local community.
A lot of the charities we work with are homeless charities and we support them through food donation or volunteering. We've also run CV workshops and interview preparation to help get people back into work and hosted recruitment events for homeless youth to support their independence, develop their life skills and hopefully offer them a job at Nando's afterwards.
New openings, new opportunities
It's important to us that we're a force for good in our communities from day one, so before we even open a new restaurant, we start working on projects that benefit the local area.
Whenever we build or refurbish a restaurant, we're surrounded by world class designers, contractors, builders and equipment. So while we have them there, we meet up with a local charity and work on a project together, like designing and building a new diner-style dining room for an elderly care home in Hornchurch or repurposing an old telephone box into a community donation space in Ipswich or contributing to local playground and garden projects in Sydenham.
Our food donation program
We refuse to waste food when people are going hungry. As a restaurant business, we've learned that some food waste is unavoidable, but we try to reduce it as much as possible by cooking chicken only when it's needed. Since 2013 at the end of every night, any cooked chicken that hasn't been sold is temperature checked, frozen and given to one of the restaurant's charity partners as part of our 'No Chucking Our Chicken' programme. We have over 387 unique charities across the UK and Ireland, supporting all kinds of causes, including youth, homelessness, refugees, and women and family shelters.
If there's any food waste we can't donate, we send it to Anaerobic Digestion where it is turned into renewable energy and agricultural fertiliser.
As the home of Nando's and PERi-PERi, Southern Africa means a lot to us and we want to make sure we're doing everything we can to change lives and make a difference.
A fair deal for farmers
We want to make sure every farmer we work with gets a good deal. So we decided to find a better way to source and buy the Nando's PERi-PERi Chillies that make our signature PERi-PERi sauce. First off, we developed a trademarked variety of the famous African Bird's Eye Chilli that delivers our unique Nando's PERi-PERi flavour. Then, through local farming organisations, we met with small-scale farmers across Southern Africa to secure a stable supply of these chillies at a fixed and fair price above market value, so farmers can plan and manage their farms without worry. We guarantee to buy all their chillies, to help make sure farmers have a steady and reliable source of income.
The success of PERi-Farms has meant we have a traceable chilli supply chain that empowers farmers by giving them the skills and opportunity to support themselves with a reliable crop they can make a good living out of. Now, every Nando's PERi-PERi sauce, baste or marinade around the world is made with chillies from the PERi-Farms in Southern Africa, helping local farmers thrive, and developing wider communities as well.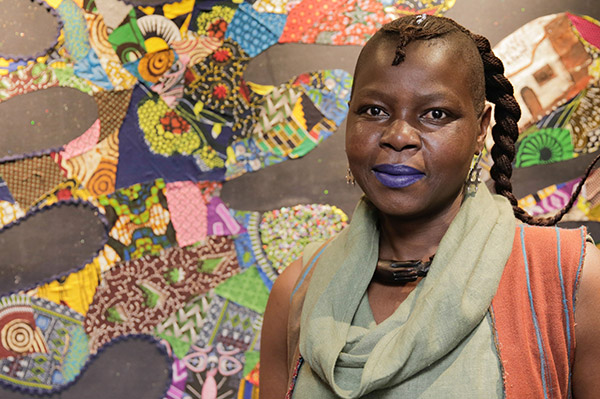 Standing up for artists
As well as collecting and displaying beautiful pieces of art, we wanted to make sure we were investing and creating opportunities for emerging artists in South Africa. By giving artists the chance to focus full-time on their artistic careers with the potential to earn regular income, we want to make a difference in people's lives and grow our collection of high quality Southern African contemporary art.
We've partnered with the Spier Arts Trust, who curate our collection and help artists build their careers, running development programmes like Spier Arts Academy, The Creative Block and Qubeka Bead Studio.
By sharing the artists' stories, we're sharing our own story. By showcasing the artists' work globally in our restaurants, we're sharing a significant period in Southern Africa's history with the rest of the world. So when you cast your eye over any one of the original pieces in our restaurants, you're actually looking at the stories from our homeland from over 350 artists.
Fighting Malaria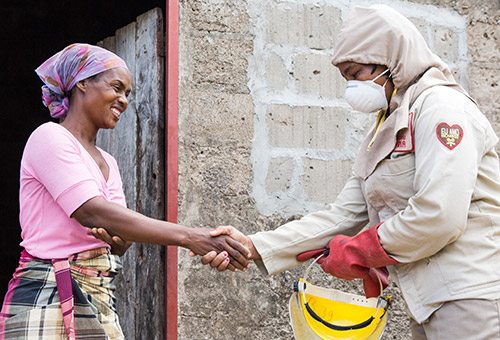 We believe in the power to change lives, so we're raising money to fund spray programmes that fight malaria in Mozambique, where PERi-PERi comes from. With the help of our passionate Nandocas (that's anyone who works at Nando's) and customers we've donated enough to protect over 658,000 lives from malaria.
A lot of the money we raise comes from internal fundraising, from head shaves to auctions to sponsored walks and everything in between. And for part of the year, we sell limited edition menu items and special gift packs of sauces in our restaurants where we donate the profits, without taking anything extra from our customers.
We sell beautiful, handwoven bracelets made in Southern Africa, and each bracelet sold protects two lives for one year.

It's the people that make the chicken, so we make sure this is a great place for every Nandoca to work, with fair pay, lots of opportunities to grow and a chance to develop their careers.
We are a global family with a desire to make a difference – for ourselves, for our local community and for those in very different life circumstances further afield. Nando's commitment to social change gives every Nandoca the opportunity to have a real impact on the lives of others, coming to work for more than just our daily wage.
And after all, when it comes to delivering those unforgettably unique Nando's experiences, it's the heart and soul, the pride and passion, and the dedication of our people that makes the magic happen.
Skills for life
At Nando's we believe we can have a positive impact on young people's lives by helping them develop skills to get ready for the workplace. To help us do this, we partner with innovative volunteering programmes, aimed at up-skilling and empowering young people for further education and employment.
"I have been a Nandoca for over a year. My experiences here have been a welcoming one, managers and staff make sure you integrate well into the team or family as we call it here - the awkward start lasts about an hour because of how nice everyone is. In addition to this, if wanted, you're always given the opportunity to develop yourself by learning new things such as having a role on the 'floor' and asking to be taught how to be a 'griller'."

Nathan, Nando's Streatham

"I have so much passion, to try to be part of more to help enable these, young people, set up skills for life. The calibre of the candidates are fantastic and has given me an opportunity to teach young and enthusiastic individuals, the work experience they need to help grow themselves."

Leila, Patrao Nando's Streatham.

"On my first shift I was shaking and so nervous about having to speak to people, but since then I've overcome my shyness and feel able to interact with people really well. I spend most of my shifts working on the floor, looking after customers and making sure they're having the best experience possible. I now feel able to push myself out of my comfort zone."

Whitney, Nando's Clapham High Street

We also have a Varsity Apprenticeship programme which gives our Apprentices the training they need to be confident and successful in their roles, learning activities that will provide industry relevant skills and knowledge, and having some great conversations to bring it all together. We provide our Apprentices with learning, understanding and support throughout their apprenticeship so that they can complete their programmes and earn nationally recognised qualifications.

Grow the career you want

At Nando's, we want to change the world around us by making a real difference to people's lives. We work hard to make sure that every member of our family is happy and can be successful, and to make Nando's a place where every Nandoca is encouraged to be the best they can be. It's the generosity of the people around us and the time they invest in us that allows us to develop our skills and confidence – in and out of work.

'I think this course is really good and I have learnt so much, my coach is amazing as well'

Nicola, Nando's Bluewater Plaza

'This course is really good, my coach is really helpful'

Diana, Nando's Chatham

'My Manager supports me by giving me study time on our rotas, 8 hours per week, I can really rely on our team here to support me.'

Ana, Nando's Manchester Chill Factor

'My Patrao is really supportive of the course and giving me study time, 4 hours every week.'

Clemson, Nando's Birmingham Broad Street

A chance to be the best me

We've always believed that Nandocas should bring their 'whole selves' to work. We want everyone to have the opportunity to learn, grow and develop - professionally and personally - and to become the very best version of themselves, whether their future is at Nando's or beyond.

Part of this comes from creating an environment where Nandocas are trusted, valued and empowered to lead and learn. Plus, with over 17,200 Nandocas we know we've got hidden talents and ambitions out there.

We encourage our Nandocas to "bring their outside in", which means giving them opportunities to grow their talent in interests they have outside of work by using their skills to work on some key projects for the business. Right now we have Nandocas who are studying fashion design who are involved in designing our new uniform, animators who are working on our first animated film, actors who we use to present and star in our internal video content, filmmakers who film our internal videos and photographers who take pictures for toolkits and events.