For the planet
We've always wanted to make sure that our restaurants are not just beautiful spaces to be in, but that they also support their local communities and have a minimal impact on the planet. So we've introduced a sustainable fit-out guide for all restaurants, built relationships with local charities when we open and grown the largest collection of South African art in the world!
Our Restaurants An eye on climate change Design and interior
When it comes to designing and building sustainable restaurants, we're extremely fired up. To make sure we're treading as lightly as possible on our planet, our restaurant design and construction must be progressively sustainable.
Green Buildings
For years we've only used 100% LED lighting in our restaurants, made sure to re-use timber from construction and invested in specialised equipment to reduce our energy consumption.
We've developed a Sustainable Fit Out guide that sets out our sustainability principles when we refurbish or build a new restaurant. It lists certain must-haves, from having recycled content in tiles and using natural fibre insulation, to reusing existing features, and ensuring all our taps, toilets and flushes are low flow, reducing the water we use.
Building Relationships
It's not just the building we take time and care over when opening or refurbishing a restaurant, but the local community too. We work with some wonderful people to help design and build our restaurants, and while we're in the local area we want to create happiness in those communities too.
That's why we link up with a local charity every time we open or refurbish a restaurant and lend them a helping hand. This might be as simple as installing some refrigeration so that they can work with us on our food donation programme, through to bringing in our designers and contractors who can help out with refurbishing their buildings.
A Cambridge Education
In 2017 we opened our most sustainable restaurant yet, in Cambridge. It went on to win the Sustainable Restaurants Association's Most Sustainable Restaurant to Open in 2017 and achieve the top rating (SKA GOLD) for its fit out.
Every part was considered and constructed with sustainability in mind. From lampshades made from mushrooms to seat coverings made from hemp and nettle fibres. We even insulated the restaurant with Cumbrian sheep's wool to keep our customers cosy. We covered the walls in plants and put 97 solar panels on the roof which gives us 10% of the energy needed to power the restaurant – the rest coming from purely renewable sources in the UK.
Cambridge isn't just a flashy project for us. The point of developing a restaurant like this is to test innovation methods and trial sustainable equipment, with a view to rolling these out to more restaurants. Now that we know what works, we can make sure that every restaurant we open or refurbish can be fitted out with cutting-edge sustainable features and powered by 100% renewable electricity.
Climate change is a huge issue in the modern world and we're doing everything we can to lessen our impact and our carbon footprint. We have a big ambition to do even more and are committed to running our restaurants as efficiently as possible.
Power down
We've now moved to 100% renewable electricity supply across our business in England, Scotland and Wales. Ireland is currently on a different contract which we will move to renewables as soon as it's time to renew. We keep a close eye on our energy usage, going as far as to get an alert when a restaurant is using more than expected, so we can help work out why and fix it.
We have a dedicated team of sustainability champs all across the business who help encourage behaviour changes, like using switch off guides to make sure we're always efficient and don't use any energy when we're closed. Our state of the art tech won't let us have the door heater on when the air con is on, and makes sure the extraction hoods over the grills only extract as much air as is necessary.
Waste not want not
We monitor all our waste and work closely with our suppliers to get actual weight data to help us recycle more. We separate out our food, glass and mixed recycling and never ever send anything to landfill, instead sending any waste we do have to a special plant which creates energy from waste.
We've also committed to reducing our plastic waste in line with the UK Plastics Pact and will work with suppliers to achieve this.
Water smart
We're using specially developed technology to reduce water usage, like low flow taps and low flush toilets in our restaurants. We've installed pressure sensing taps in our kitchens so they can't be kept running. And we always make sure to clean our water from the dishwashers and sinks - capturing the grease and food to stop it going back into our water system.
We're really keen to reduce our water usage, so we're working with key partners who help us understand how much water we're actually using, if that sounds like it's too much for an average restaurant and to notify us if they think there are any leaks.
Our buildings are not only beautifully green and sustainable, they're also beautiful to look at.
Each restaurant is designed individually, using bright, vibrant colours as a celebration of our heritage in Mozambique and South Africa. We try to make sure they don't just look good, but do good, buying key pieces of furniture, artwork and lighting in a sustainable way from South Africa. And we're proud to say that our refurbishment programmes keep everything looking smart while creating jobs in the UK.
Furniture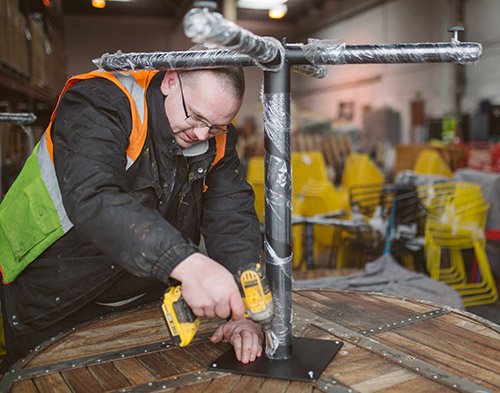 The Hillcross Furniture and Employability Trust partnership is one of our crowning achievements. It not only helps our restaurants be more sustainable, but also brings young people into employment. Every year, rather than buying new furniture, we refurbish our existing stock in collaboration with Hillcross and the Employability Trust. It's meant that 197 young people have been given a pathway into sustainable employment and have refurbished 6,740 pieces of furniture in the process. See more info here.
Nando's and Art
With over 9,000 pieces (and counting), we're officially the biggest collector of Southern African contemporary art in the world.
Through our long-term commitment to contemporary Southern African art, we want to make a real difference to the lives of the artists we work with. To make this happen, we've partnered with the Spier Arts Trust, who give artists in South Africa opportunities for career development.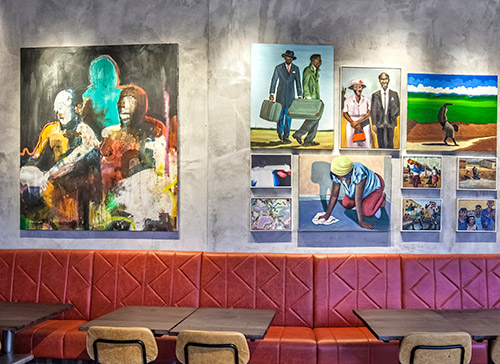 Spier Arts Trust runs programmes that create career development opportunities for professional artists, helping them build successful art careers. These programmes include, Spier Arts Academy, The Creative Block, Qubeka Bead Studio, and the commissioning of site-specific, architectural-scale artworks, to name a few.
For the past three years, several artists from South Africa have visited London and exhibited their works during the 1:54 African Art Fair in Somerset House, and Feast Your Eyes – Nando's own Pop-Up Gallery. They're great opportunities for artists to exhibit their art to a wider audience, make new connections and also visit some restaurants where their art is displayed. We also make sure to loan our art to exhibitions across Europe so that artists can benefit from the exposure.
For more information, go here.
Sustainable design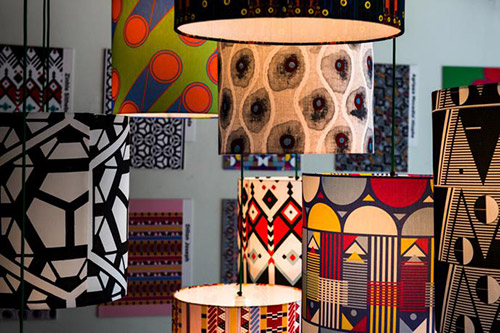 To celebrate the creative inspiration of Southern Africa through furniture and product design, we've launched an online platform that cuts the wait time to launch a product right down, and also helps start-ups understand how to market, grow and run their businesses sustainably.
So far there are 50 businesses connected to this platform and a percentage of all their sales goes towards a Purpose Levy, which is reinvested in the designer-makers through workshops, business support and 1-2-1 mentoring.
The kind of products they make can be seen in Nando's throughout the UK and Ireland, from the feature lighting to the chair you're sitting on while you eat your PERi-PERi chicken. From Southern Africa to the world!
Clever crockery
When designing our crockery range, we were keen to capture the essence of Southern Africa, as the birthplace of Nando's PERi-PERi. We sent Simps and Nolo, two young designers with an eye for patterns and a spirit for adventure, to Mozambique to bring the vibrancy of the colours, architecture and art found in its capital city, Maputo, to life.