One of the brightest stars from our homeland, Thenjiwe Niki Nkosi, has rocked up in London town, just in time for the 1:54 Contemporary Art Fair.
Nkosi, alongside three other artists will be proudly exhibiting and selling their work at the 1:54 Contemporary Art Fair with Nando's at Somerset House and we couldn't help but sneak a pre-show catch up with her…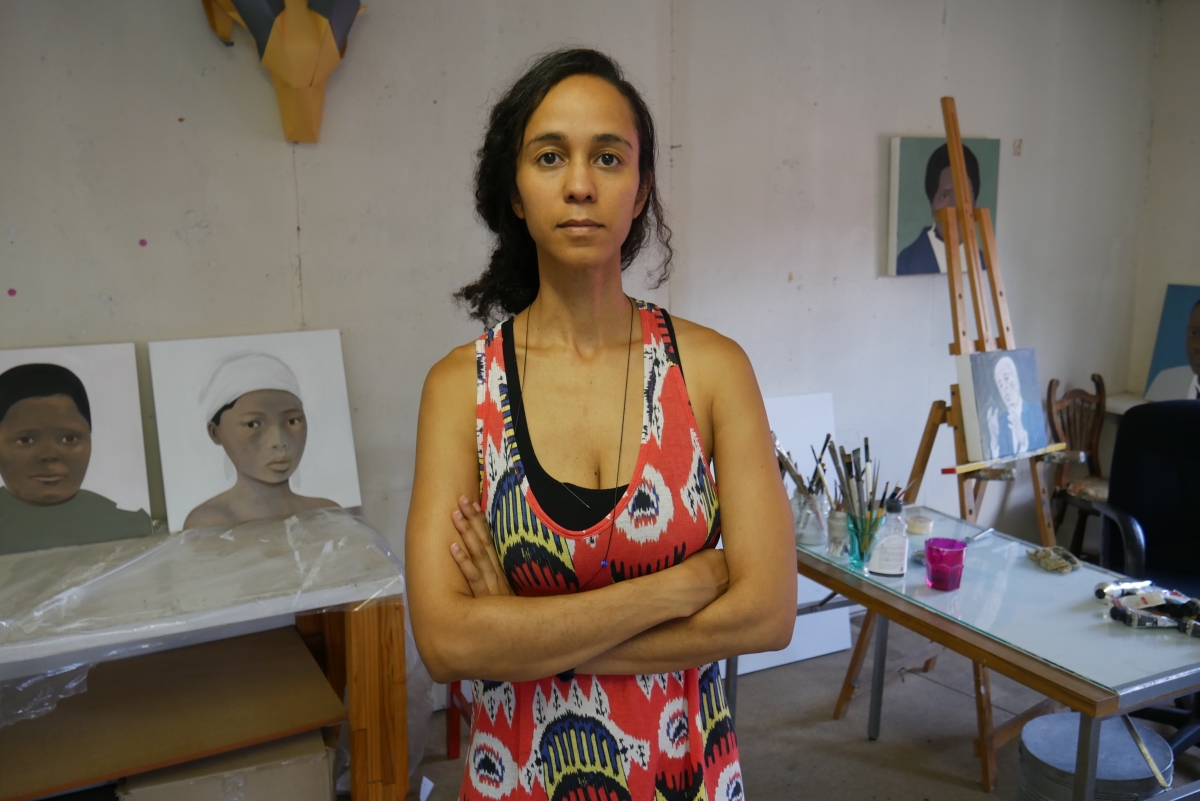 Tell us what art means to you.
I really think about art as quite simply a space and an opportunity to experiment, to collaborate, to think and to make things or relationships. Art is an opportunity to contribute to the world.
What was your first experience of art?
I grew up in New York City and there are a lot of art museums and a lot of public art in that city. I remember going to museums as a kid and it's very tied in with eating hotdogs in the street. My first experience of art was seeing things without explanations and being without my parents in the city, being with other kids. I can't remember a piece that I saw or which museums that I went to, but I just remember this feeling that it was something for me, and bigger than me. That is something that I wanted to emulate when I came home, so I always drew a lot, painted and made things, it was very much a part of my life. Art was everywhere. I grew up in the 80s in New York City. There were so much graffiti on the trains; people were making things in public, which must have made an impact on me.
What inspires your work?
I think my work is most inspired by thinking about the past and trying to chart my own way into some kind of a future. Also when thinking about the past, trying to understand the present moment and try to find my place in that moment.
I am interested in architecture as a representation of how we think and ideology of the dominant force of the time. I think architecture really is emblematic of how we think and who has the power in any given moment. So I look at architecture as monuments of a particular time and moments in history. For example, I am interested in apartheid era, architecture and the forms of that architecture, what makes it specific to that time and how that architecture still represents something about that period in our present. In a way they are vestiges of apartheid, they become symbols of what has remained since that period.
For me the architecture is a metaphor for ideology and structures - larger institutional, financial and economic structures. They're monuments of power. For me if we ask ourselves what has changed since apartheid fell? We can look at these buildings and say they are still here, so what part of our past still affects us today. So that's what I want anyone who consumes my work to think about. What remains with us? What hasn't changed?
Are there any particular movements that you are championing?
At the moment I am really interested in creating a community of artists who are parents, but also just creating more support for us. There are a lot of artists who I know who are single parents and the responsibility of taking care of your kid is on you as the parent with more flexible time. I am interested in how we can create more support for artists who have families, because it has completely changed my life becoming a parent and trying to balance that. As well as integrate my child into my practice, my life and work, which is important to me.
What's the best piece of advice you have been given as an artist?
The best piece of advice that I got was to keep some of your favourite work. I haven't really managed to do that because every time I need to make some money I sell off whatever is stashed away in my flat, but I don't think it is so smart. It is important to keep your favourite pieces and to keep them around, just a reminder of what you are trying to do with your work, life and what makes you happy.
What would you say to young artists looking for inspiration?
Young artists are inspired all the time. Inspiration is everywhere, all the time and I think we live in a particular era where distraction has become the norm and I think it is very hard for people to self generate anything like: entertainment, thoughts, inspiration. Maybe it is important for younger artists to remember to power down and to create space inside you for your own thoughts and ideas.
Has technology changed the way that you approach art?
Yeah, technology changes the world everyday. It changes how we interact, the way we think, and the way we live and I think art is going to change as a consequence. I don't necessarily think that the role of art will change; its role will always be the same.
What is the future of art?
The future of art globally is the same as the future in South Africa. The future of our world relies on people working together and not against one another. It could sound cliché or idealistic but I'm saying in the communities that are already functioning as communities. Lets really re-examine how we want to live and how one can pursue personal dreams and goals whilst sharing platforms and resources. For me what I have seen in this past year as a parent and working with other parent artists, is that the more we share resources and our time and space and give each other our energy, the more we can produce and succeed. The future has to be supportive and non competitive and the most important thing is for us to realise our personal and communal power as artists.
Find out more about Thenjiwe Niki Nkosi and her artwork here.
And that's a wrap!
Come check out the works of the very talented Nkosi on 5-8th October, Somerset House, Strand, London WC2R 1LA.
See you there!