Our new Rainbow Bowl has arrived!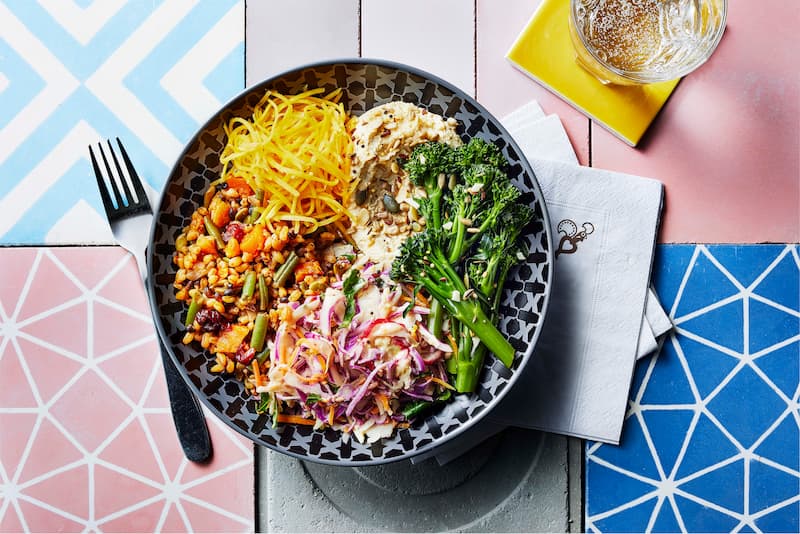 Just like The Great Imitator, our Rainbow Bowl is completely plant-based and therefore more sustainable, supporting Nando's efforts to become carbon neutral. It is the perfect seasonal salad for anyone following a plant-based, flexitarian or vegetarian diet (and even if you're not!).
Crunchy, fresh and full of flavour, here's what's in our hearty dish...
Pink, green and white cabbage in a tangy mustard dressing start the bowl off in a big bold way. We've topped this off with spiced grains, a mix of wholegrains, green beans, butternut squash, dried cranberries and apricots. We've then added long stem broccoli in a garlic and lemon dressing for greens with a citrusy kick, pickled golden carrot and finished it all off with creamy houmous with crunchy seeds.
We told you it was hearty!
For the ultimate meal, try topping your Rainbow Bowl with our PERi-Plant Strips made from pea-protein and completely plant-based too. Add a side of Sweet Potato Wedges which come with creamy plant-based Garlic PERinaise and you can't go wrong.
To check out all our plant-based PERi-PERi options, just like The Great Imitator and Vegan PERinaise, have a look at our menu online. We're sorry to say the Rainbow Bowl is not available in Northern Ireland.
Fancy getting stuck into some plant-based cooking at home? We've got plenty of recipes right here: