How to use this product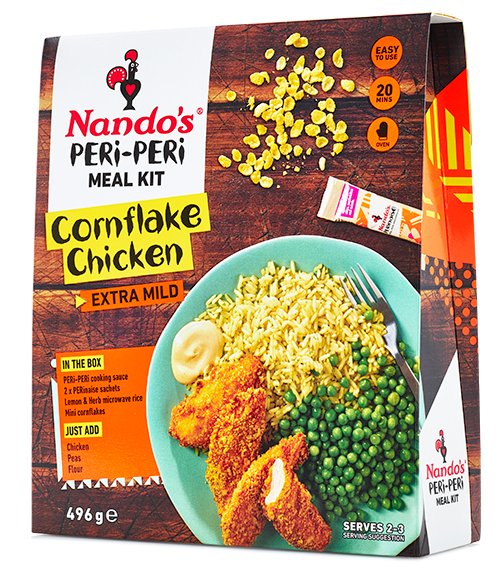 In the box:
- PERi-PERi Cooking Sauce
- 2 x PERinaise sachets
- Lemon & Herb microwave rice
- Mini cornflakes
Just add:
- Chicken
- Peas
- Flour
1. Heat oven to 220°C (200°C fan, Gas 7) and work out some of the day's stress by crushing up your cornflakes into crumbs. Don't hold back!
2. Lightly coat chicken in seasoned flour, dust off excess, dunk in PERi-PERi cooking sauce and coat in crushed cornflakes. Spread coated chicken pieces out on a lightly oiled baking sheet, spray with oil and bake for 12 to 15 minutes (or until cooked through), turning occasionally.
3. While chicken cooks, squeeze rice in closed pouch and make a 2cm tear at the top. Microwave on high for 2 minutes (700W)*.
4. Heat peas in boiling water, drain and add to hot rice. Top with chicken and serve with PERinaise on the side!
*Microwaves vary. For microwaves of different wattages, adjust the time accordingly.
How spicy?
Maximum flavour with the mildest of spice.
Good to know stuff
No Artificial Colours
No Artificial Flavours
Nutritional and additional information
Avg Quantity Per Serving
Avg Quantity Per 100g
Energy
1333 kJ/318 kcal
808 kJ/193 kcal
Ingredients
Lemon & Herb Microwave Rice 250g: Cooked Long Grain Rice (93%) (Water, Long Grain Rice), Lemon Juice, Sunflower Oil, Salt, Flavouring, Dried Parsley. PERi-
PERi Cooking Sauce 120g: Water, Onion Puree, Tomato Paste, Garlic Puree, Lemon Puree, Sunflower Seed Oil, Sugar, Distilled Vinegar, Acidity Regulators (Sodium Lactate, Lactic
Acid), Salt, Paprika, African Bird's Eye Chilli, Tamarind, Molasses, Stabilisers (Xanthan Gum, Guar Gum), Thickener (Modified Corn Starch), Spice Extract (Paprika). Mini
Cornflakes 85g: Maize, Sugar, Malted Barley Extract, Salt. 2 PERinaise Sachets 20ml: Water, Rapeseed Oil, Sugar, Vinegar (Distilled Vinegar, Cider Vinegar), Corn Starch, Egg
and Egg Yolks, Salt, Medium Peri-Peri Sauce (Water, Distilled Vinegar, Onion Puree, Salt, Lemon Puree, Sunflower Seed Oil, Spices (Cayenne Pepper, African Bird's Eye Chilli,
Paprika), Green Chilli, Garlic Puree, Stabilisers (Xanthan Gum, Propylene Glycol Alginate (derived from Seaweed)), Antioxidant (Ascorbic Acid), Rosemary Extract), Spices
(Cayenne Pepper, Paprika, Mustard, White and Black Pepper), Stabiliser (Guar Gum), Preservative (Potassium Sorbate), Antioxidant (Calcium Disodium EDTA).
Package format
1 x 120 g e PERi-PERi cooking sauce
2 x 20 mL e PERinaise sachets
1 x 250 g e Microwave rice
1 x 85 g e Mini cornflakes
Other stuff you need to know
Store in a cool, dry place away from direct sunlight. Once opened use all contents immediately. Once cooked do not reheat. Do not use if ingredients are bloated or leaking.