How to use this product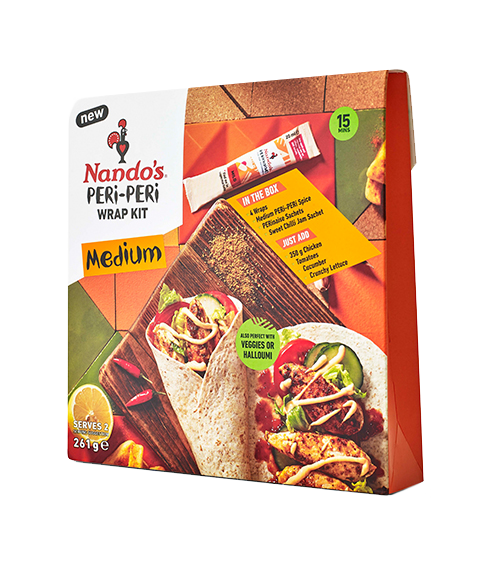 In the box:
- 4 Wraps
- Medium PERi-PERi Spice
- PERinaise Sachets
- Sweet Chilli Jam Sachet
Just add:
- 350g Chicken
- Tomatoes
- Cucumber
- Crunchy lettuce
Cooking Instructions:
1. Generously coat the mini fillets or sliced chicken breast in the Nando's PERi-PERi spice.
2. Heat a splash of oil in a frying pan over a medium heat. Fry the chicken for 8-10 minutes or until cooked through.
3. You can eat the wraps as they are or warm them up (recommended). Instructions are on the packaging.
4. Spread our delicious Sweet Chilli Jam on the wraps and add the cooked chicken down the centre, along with your choice of tomatoes, cucumbers and lettuce.
5. Finish it off with half a sachet of PERinaise, wrap tightly and enjoy!
*SERVING SUGGESTION: Serve with Potato Wedges or Chips & PERi-PERi Salt for the complete Nando's experience.
How spicy?
Hits the spot without scalding your tonsils.
Good to know stuff
No Artificial Colours
No Artificial Flavours
Nutritional and additional information
This products nutritional information

| | | |
| --- | --- | --- |
| | Avg Quantity Per Serving | Avg Quantity Per 100g |
| Total sodium | 3.5g | 2.7g |
| Energy | 1471KJ / 349kcal | 1127KJ / 267kcal |
| Fat total | 8.1g | 6.2g |
| Carbohydrate | 61g | 46g |
| Fat saturated | 1.5g | 1.2g |
| Sugar | 15g | 12g |
| Protein | 7g | 5.3g |
Ingredients
Wheat Wraps 160 g (Made in the UK)  Ingredients: Wheat Flour (Wheat Flour, Calcium Carbonate, Iron, Niacin, Thiamin), Water, Wholemeal Wheat Flour, Humectant (Glycerine), Dextrose, Palm Oil, Raising Agents (Disodium Diphosphate, Sodium Hydrogen Carbonate), Acidity Regulator (Citric Acid), Sugar, Emulsifier (Mono- and Diglycerides of Fatty Acids),  Preservatives (Potassium Sorbate, Calcium Propionate), Salt, Stabiliser (Carboxy Methyl Cellulose), Wheat Starch, Wheat Flour, Flour Treatment Agent (L-Cysteine Hydrochloride). Wraps packaged in a protective atmosphere Medium Spice 20 g (Made in South Africa)  Ingredients: Sugar, Potato Starch, Salt , Herbs and Spices (Red Chilli, Parsley, African Bird's Eye Chilli, Paprika), Modified Maize Starch, Yeast Extract (Barley), Acidity Regulators (Citric Acid, Sodium Diacetate), Sunflower Seed Oil, Anticaking Agent (Silicon Dioxide), Flavourings (Lemon, Nutmeg), Tomato, Capsicum Extract, Garlic. Sweet Chilli Jam 40 g (Made in the Netherlands) Ingredients: Tomatoes (30%), Sugar, Water, Apple Vinegar (Sulphite), Tomato Paste, Red Onion (4.7%), Red Chilli (4.5%), Corn Starch, Spirit Vinegar, Spices (Red Chilli Pepper, African Bird's Eye Chilli), Garlic Puree, Citrus Fibre, Colour (Caramel), Salt. PERinaise 20 ml (Made in the Netherlands) Ingredients: Water, Rapeseed Oil (27%), Sugar, Vinegar (Distilled Vinegar, Cider Vinegar), Corn Starch, Egg and Egg Yolks, Salt, Medium PERi-PERi Sauce (Water, Distilled Vinegar, Onion Puree, Salt, Lemon Puree, Sunflower Seed Oil, Spices (Cayenne Pepper, African Bird's Eye Chilli, Paprika), Green Chilli, Garlic Puree, Stabilisers (Xanthan Gum, Propylene Glycol Alginate), Antioxidant (Ascorbic Acid), Rosemary Extract), Spices (Cayenne Pepper, Paprika, Mustard, White and Black Pepper), Stabiliser (Guar Gum), Preservative (Potassium Sorbate), Antioxidant (Calcium Disodium EDTA).
Other stuff you need to know
Store in a cool, dry place away from direct sunlight. Once opened use all contents immediately. Do not use if ingredients are bloated or leaking.