Our PERi-PERi chillies are grown in Southern Africa. Sadly, millions of people suffer from malaria every year, but together we can help put a stop to this. If you want to be part of making a difference, you can donate online or in restaurant by buying a Nando's Fighting Malaria bracelet, to help make malaria buzz off!





Nando's Sauce Packs
You can't wrap a burger, but you can wrap up a gift pack! A Nando's sauce pack makes the perfect gift for the PERi-PERi fan in your life (even if that's you). Pick up one at any of our restaurants, and get your Nando's fix while you're there!

Each Sauce pack contains 6 sauces, including an exclusive Fighting Malaria PERi-PERi sauce, and protects a family of 4 from malaria for a year.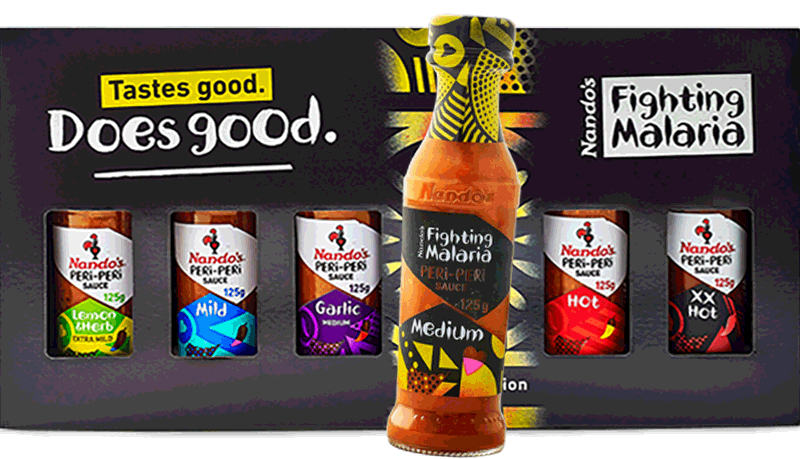 Pretty. And pretty powerful.
We have three unique bracelet designs. Each bead colour has it's own meaning, so you can choose the one for you:

- I'm creating (yellow) future (orange) happiness (black).
- I'm supporting (blue) positive change (grey) to create happiness (black).
- I'm creating happiness (black) through love (red).

The two red beads on the bracelet represent the two lives you can protect for just £3.