Nelsa Guambe (b. 1987) is a self-taught artist based in Maputo, Mozambique, where she lives and works – across a range of multidisciplinary fields and collaborations.
She has held several solo shows in Maputo, and has participated in group exhibitions in Mozambique and abroad; including Cape Town's DK Contemporary Gallery and Pure Gold: Upcycled/Upgraded, a decade-long touring exhibition hosted by 20 international venues. She works predominantly in painting and photography and also collaborates in furniture and product design. She is also co-founder of DEAL Creative Space in Maputo.
Multidisciplinary artist Nelsa Guambe is something of a trailblazer – with a number of achievements, projects and enterprises to her name that belies her years and her under-resourced country. With a burgeoning art career focused on painting and photography, collaborations in furniture and fashion design that have garnered international attention and most recently, a creative space opened in Maputo, Guambe's artistic endeavours are by no means limited.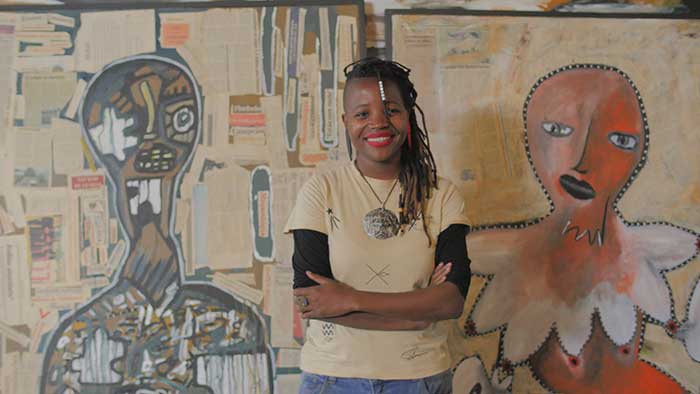 In fact, for Guambe, the creative act is far broader, more fundamental than a particular artistic or design discipline. Her approach and thematic concerns speak of creativity as self-actualisation, centring on a question she asks in her recent work: "How have we become mere voters and passive participants instead of shaping our own destiny?" With this line of inquiry, she interrogates the troubled state of her beloved Mozambique – the political conflict and economic decline in particular – as well as the globally relevant subjection of women in a still male-dominated world.
Vibrant colours and marks animate the tension between this present turmoil and the artist's call to "shape our destiny", describing a contrast between as yet unmaterialised realities and a resourceful engagement with immediate circumstances – materials and mediums included. As art materials are very difficult to come by in Mozambique, Guambe says you have to "try to work with what you have". "Material is by chance," she adds. "See what you can do with it, respond to what you find."
In a similar opportunistic vein; experiences, encounters, people's stories, newspapers and discarded goods are "collected" from her urban surrounds and daily journey into work, offering an endless supply of inspiration and references to work and rework on the canvas or otherwise. Rich and varied, these references echo the unpredictable and eclectic dynamics of Maputo life, telling their own stories, shaping conversations in the artist's mind. These are ultimately intended to stimulate dialogue among viewers and her fellow citizens – disrupting complacency, undermining oppressive structures and calling for the power of liberated voices. It's an interrogation of the status quo that's directed at both self and collective, the actualisation she longs for intended for far more than individual goals.
Guambe is not content to merely forge her own identity, but to help shape the city and the country that she calls home. Besides her methodology, this is something also evidenced in the collaborations she forms – from furniture designs with Piratas do Pau – improvisations of both form and reinvented function – to the recently opened DEAL Creative Space. The latter is a partnership with her twin sister (also an artist) and designer and artist Ab Oosterwaal, the relationships and sharing of ideas named by Guambe as a great privilege. "We all have our own skills and strengths," she explains. "If we share with others, we have more perspectives."
These collaborative initiatives are vital in a city like Maputo, to offer spaces for creative exchange, to promote local production and industry, to inspire others to do the same, and even to create jobs. It's no easy feat, and many fail, but Guambe notes that the next generation has started launching their own spaces – a phenomenon not seen three or four years ago. She is intent on growing the local art scene and encouraging others to do the same, a vision she believes attainable with the following mantra: "Make the right partnerships, be patient, try to find like-minded people and work work work work."
Instagram @NelsaGuamb