Qaqambile Bead Studio is a creative enterprise run by three women – Nolubabalo Kanku, Neliswa Skiti and Mandisa Masina.
They started out in 2004 under the direction of curator Jeanetta Blignaut, and in the ensuing 15 years collaborated with a number of high-profile artists and designers. Two of these collaborations are included in this year's 1:54 selection: one by Marlise Keith, who has worked with Qaqambile from the start and participated at 1:54 in 2017; and the other a new partnership with Kagiso Pat Mautloa, a 1:54 participant in 2016.
Qaqambile's artworks are held in prominent collections across the world – from the UK to France, the USA, Canada, UAE, Australia and New Zealand. They have also attracted acclaim within the design sphere, with their work on MashT Design Studio's installation showcased at Milan Design Week 2019.
In 2004, Nolubabalo Kanku, Neliswa Skiti and Mandisa Masina joined a 16-women team hired to work on a collaborative art project: translating designs and works by fine artists into striking beaded panels. Little did they know that this job would transform into an all-in, entrepreneurial commitment and creative calling – a business that would endure and evolve for over 15 years, attracting global collectors and prominent artist partners.
When the initial project came to an end in 2006, these women chose to start their own beading business with the skills and connections already in place. Besides their sacrifice, determination and conviction that this was a God-given opportunity, the element of collaboration would prove central to their enduring success.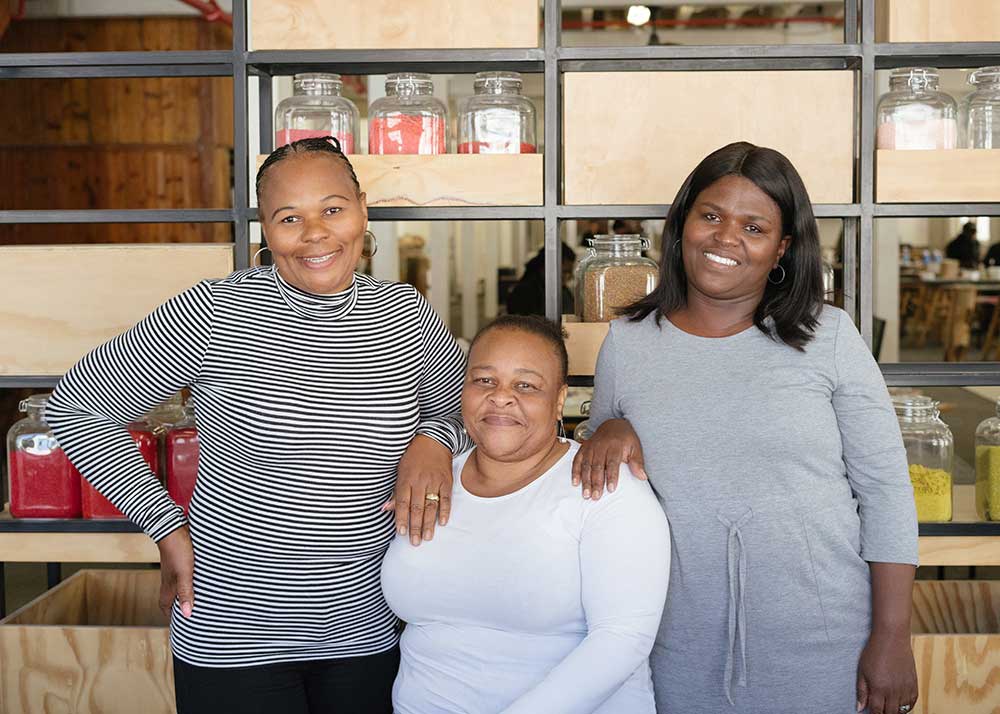 They turned to and developed their existing partnerships: They received tuition in drawing, photography and Photoshop, and visual artists with whom they'd previously worked became long-term collaborators in a synergistic exchange that still holds today. Artists like Liza Grobler and Marlise Keith continue to share their colour theory knowledge, and Qaqambile's translation into beads – sensitive to each artist's particular style and concepts – adds extra layers of meaning to the original artworks.
This is exemplified in the two 1:54 collaborations with Marlise Keith and Kagiso Pat Mautloa. Tamlin Blake, Chief Curator for Spier Arts Trust, explains: "Keith's fine detail and colourful surfaces translate well into beads, contrasting the playful quality of the beaded surfaces with the undercurrent of discomfort and deep questioning apparent in her work. Mautloa's work, on the other hand, questions the expectation of seeing images from Africa in what is considered to be a traditional medium. This is particularly relevant, since the images are based on his personal interpretations of African masks – symbols he uses to review notions of identity and belonging."
Collaboration is, however, not limited to Qaqambile's external alliances – it is a deeply entrenched part of the organisational DNA, an intrinsic synergy fundamental to mastering the art of beading. At least three beaders work on a single piece: to share the load of painstaking labour, to assign the individual strengths of each beader to particular aspects of the design, and also to distribute individual style across the work so that it is not recognisable – so that the finished work functions as a cohesive piece.
This is evident not just in the "translation" works but also in the studio's own, authored pieces, which have developed in parallel and become equally popular among collectors. Depicting scenes from everyday life – tableaus on the streets and inside the houses of their township neighbourhoods and rural, Eastern Cape origins – the purpose of these so-called Studio Artworks is explained by Skiti: "We are telling our own story – what is happening in our lives, what interests us most." Again, these are co-authored as a group, with the subject and composition discussed and interrogated to determine the merits and meaning of a particular story.
Like any relationship, collaboration is less about ego, more about cooperation – especially when it is long-term. Sacrifice, conflict and blurred boundaries are inevitable. But in the case of Qaqambile, the result is an artwork – and indeed an enterprise – that far transcends the limits of individual ideas.
Instagram @QaqambileBeadStudio