In July we turned our Soho restaurant into an art gallery, showcasing art from some of the brightest stars in Southern Africa. With guest appearances from the artists themselves, some very special panellists, and - of course - plenty of PERi-PERi, we're still buzzing from the events!
So, why Southern African art and Nando's? For those who didn't already know, the spirit of Southern Africa runs through everything we do. Nando's was founded in 1987 in Johannesburg, South Africa - and our special PERi-PERi chillies are grown across Southern Africa. That's why we've got the biggest collection of contemporary Southern African art outside of Africa, with more than 19,000 pieces globally by more than 260 artists. So it only made sense that we filled our Soho restaurant-turned-gallery the emerging talent we're proud of!
All seven of the weekend's exhibitors are passionate individuals making waves with their work. So big-up to Henk Serfontein, Zemba Luzamba, Shakes Tembani, Patrick Bongoy, Norman O'Flynn, NomThunzi Mashalaba and Marlise Keith - we feel proud to have you up on our walls!
At Nando's we believe art has the power to bring people together, challenge perceptions and inspire conversations. We made it our mission for our Soho gallery to create a space where these beliefs could come to life - and if we could put a smile on a few faces along the way, even better!
Scrapping the traditional gallery rulebook, we got our audience to grips with the artists' worlds through VR headsets that transported visitors straight to the artists' studios. As well as live mosaic and African bead reconstructions, created by the very talented Neliswa and Zeenat, of two masterpieces throughout the night. Immersive, playful and creative, the layout was designed to tickle all the senses and, most importantly, get people talking.
"Art and creativity does bring people together."
In the lead up to our exciting new music studio launch, we decided to shake things up a little on the night with a unique cymatic art installation. Our beloved PERi-PERi sauce and salt danced along with the good vibrations from our latest soundtrack Zenzile - a track created by our first Music Exchange mentor, Muzi, and remixed by UK House DJ and Producer Hannah Wants. Check it out here.
Appearances from art collective Last Night In Paris and rap-sensation Example certainly didn't go unnoticed either. Not to mention insightful talks from four emerging London-based artists, Lilian Nejatpour, Eldon Somers, Sophie Rawlingson and Alexander Ikhide, on what it's like surviving in today's tough art climate.
Panellist Eldon Somers, said the event meant so much because through it, and others like it, "we can include certain people who feel othered or who don't feel comfortable getting involved in the art world." Eldon's already making waves in the UK art scene himself, and recently curated People of Colour, Colouring - a South London showcase including work exclusively by people of colour in order to promote diversity and inclusion in the art industry. "Art and creativity does bring people together," Eldon noted over the weekend, so let's keep doing exactly that!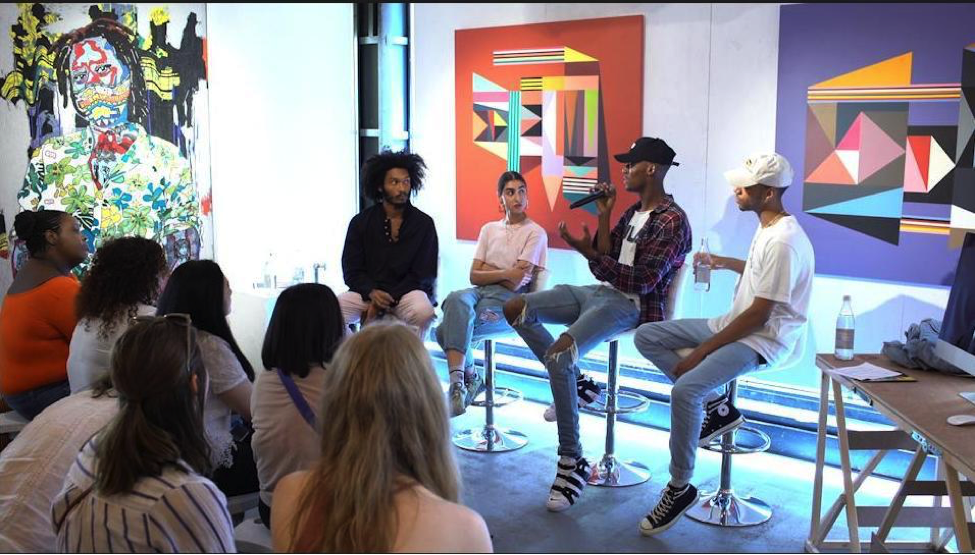 Tune in to our podcast here >>
https://soundcloud.com/alexander-ikhide-1/nandos-soho-art-gallery-talks-last-night-in-paris-with-eldon-somers-and-lilian-nejatpour
https://soundcloud.com/alexander-ikhide-1/nandos-soho-art-gallery-talks-last-night-in-paris-with-alexander-ikhide-and-sophie-rawlingston
Not only was the weekend a huge success in bringing together young emerging talent, but over half the art exhibited got snapped-up! And for any of the art that didn't make a sale, Nando's snapped it up anyway. Keep your eyes peeled for new additions enhancing our impressive collection on restaurant walls across the UK.
Just as Last Night In Paris put it, "let's eat some chicken and celebrate!"
Big love to all the talented folk involved in the success of Nando's debut art gallery! Make sure to check out Nando's latest art adventures here.