A Taste of Southern African Art will take over the Nando's London Soho restaurant for a weekend showcase of Southern African art on the 14th, 15th and 16th July 2017.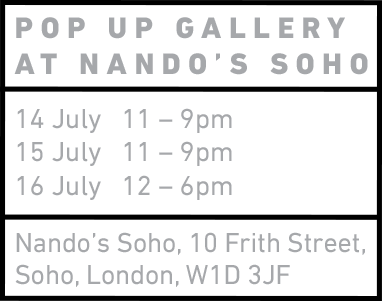 Free to enter, the pop-up gallery will be exhibiting and selling the works of seven South African artists who all have art on the walls of Nando's restaurants nationwide. Showcasing works in an environment that usually serves customers PERi-PERi treats; Feast Your Eyes is a new approach to how a gallery can be, leave any pretension at the door, grab your camera (and some chicken) and enjoy the adventure.
On the Saturday and Sunday attendees will be able to chat to featured artists Henk Serfontein and Norman O'Flynn while checking out mosaicists Zeenat and beader Neliswa creating live art within the gallery. Feast Your Eyes is an event not to miss for both art enthusiasts, and PERi-PERi fans.
All of the artists on show are a part of the various programmes supported by Nando's patronage, in collaboration with the Spier Arts Trust.
Location: Nando's Soho, 10 Frith Street, Soho, London, W1D 3JF
Nearest Tube Station: Tottenham Court Road